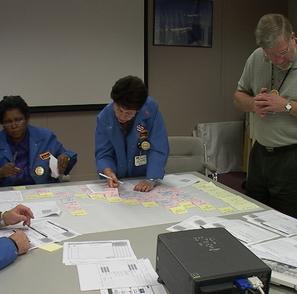 How can you create this solution in your company?
Lean Your Way works alongside your coaches at every level of the business. Your business is unique. It has its own unique DNA with strengths and weaknesses within your current talent. We work alongside you to see and understand, and to custom road-map what's possible, given the current state value stream map of the business. Depending on your needs, we tailor a custom strategy designed to deliver breakthrough results in Safety, Delivery, Quality, Cost improvements that improves Shareholder Value Rapidly.
Think about an execution methodology that is simple but powerful and can be used in all areas and workflows in every function of the business by using your company's DNA to engage your employees. A common language throughout the business.
How we work with your company's DNA to transfer knowledge to create sustainability in your company
LEADERSHIP DEVELOPMENT AND COACHING
We coach and develop new skill-sets based on creating Lean transformation. Providing market insights to design the right strategies based on your culture and business DNA.
Through structured change management models that include organizational attributes that build the best Communications, Organizational Readiness and Organizational Awareness that creates Sustainability.
LEAN / SIX SIGMA / CHANGE MANAGEMENT
Building Lean principles and applying Organizational Readiness and Organizational Awareness methodologies. Your teams will use the same methods throughout the business to solve non value-added problems. They see and learn the keys to a proven Sustainability change process. They will learn how to rapidly deploy our philosophy and methods of our improvement process where your teams create project wins and ensure sustainability for bottom-line results.
Become A Lean Continuous Improvement Powerhouse
Once a company has become endocrine of Lean Your Way:
Has insight into its processes and knows how they add value for the shareholders. Has made the performance (and variations) of these processes measurable. Uses these presentations and variations as a starting point for continuous improvement with Lean Your Way. Has created awareness about waste and client value throughout all levels.
Your organization cannot achieve the above-mentioned ambitions in one day, but can grow in that direction. The Lean Your Way approach leads you step by step along this route. We will together with you choose one or more improvement projects in the first phase and we will train the first Lean 8 week approach. In this way your own people are the internal ambassadors within the organization and the results of the projects ensure internal conviction.